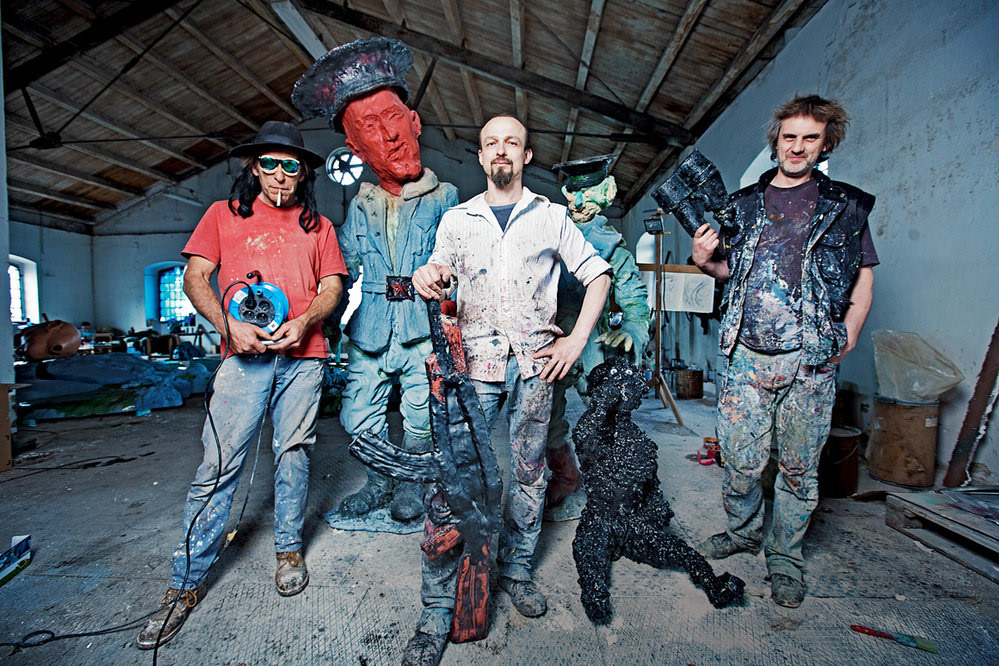 Dan Trantina and Peter Sadofsky started to work together on collective projects in 2014. Like Gilbert and George, they co-author their pieces and work simultaneously together not only in sculpture, but even on canvases. Their first collective piece was a monumental sculpture for the European Parliament in Brussels, which was unveiled by the EU Commissioner for Culture Tibor Navracsics on 26 May 2015.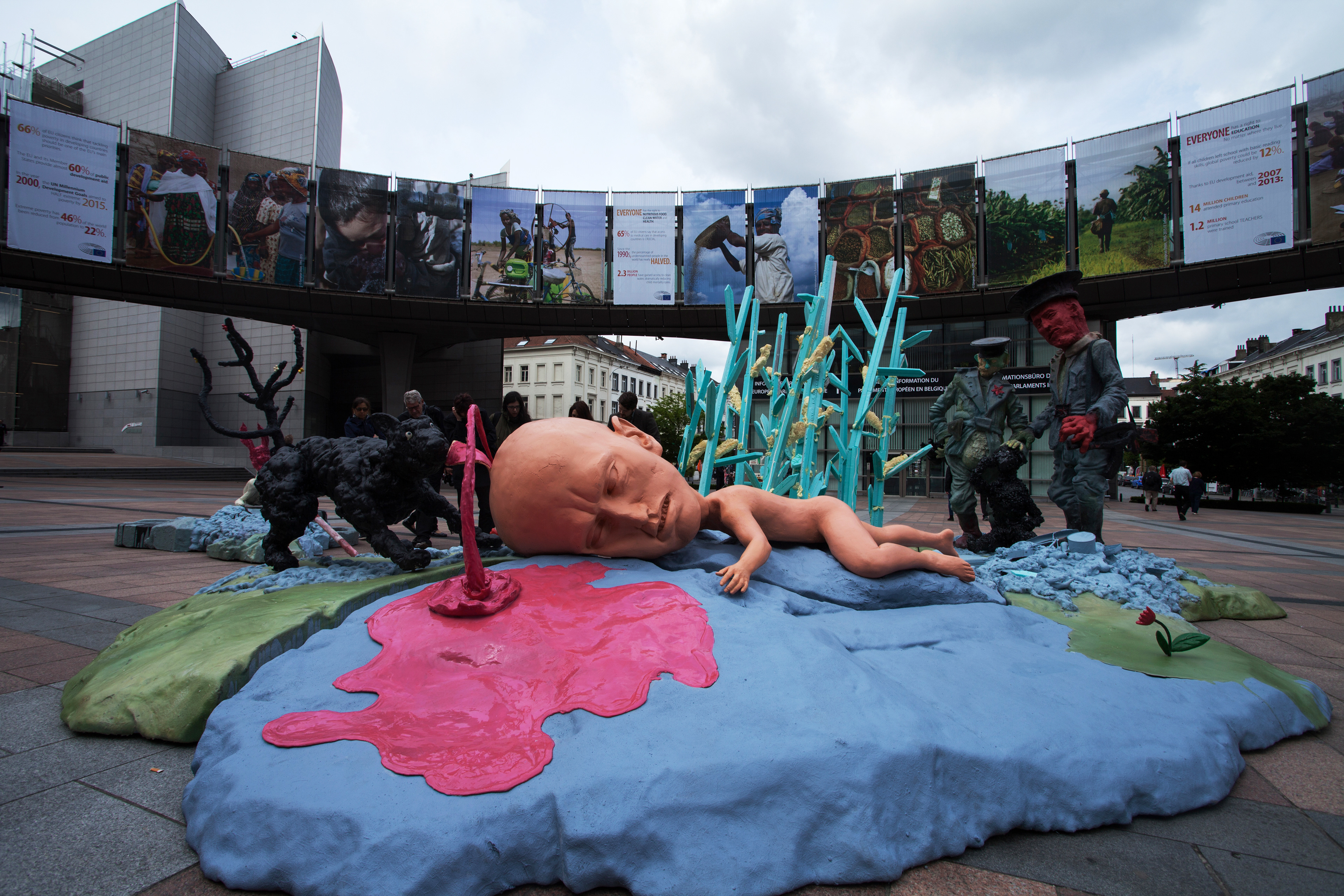 The sculpture was then Exhibited by Museum Kampa in Prague and its founder and philanthropist Meda Mladek provided her estate on St. Thomas island for the artists as a winter residence. On their way to St. Thomas, the artists visited San Juan which turned out to be a key inspiration for their new painting series, created partially there and in their St. Thomas residence specifically for the DL Art Gallery. The unique amount of art in the visually striking streets of San Juan and the Caribbean colourful atmosphere gave them the initial direction for their works in the beginning of 2016. In San Juan they have also founded their new collective called GesamteEntarteteKunstWerke (Completely Degenerate Art Factory), named after an exhibition of modern art in Munich 1937, that was supposed to prove the works of the contemporary artists as degenerate. Sadofsky and Trantina are presently living and working in Los Angeles, Prague and San Juan.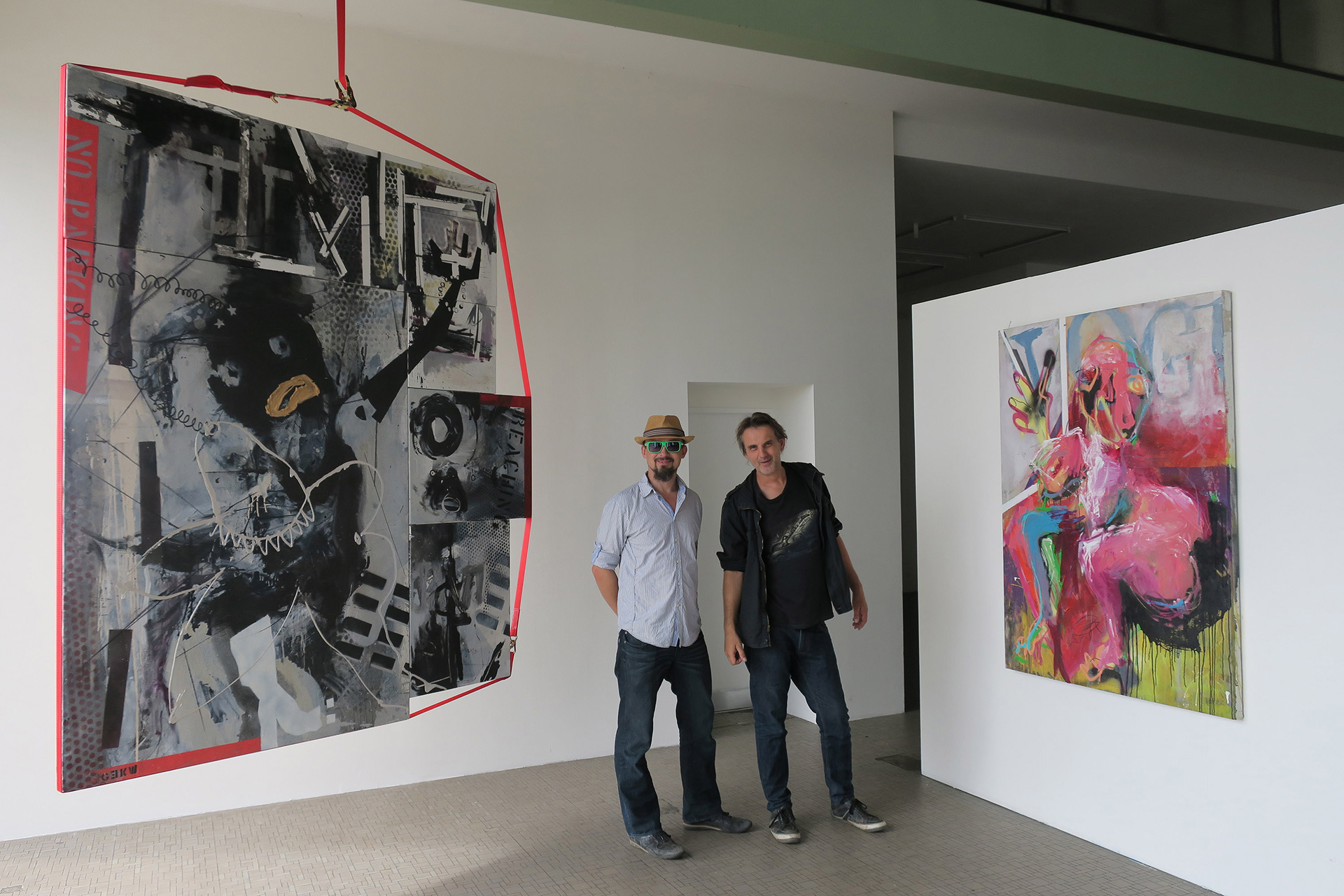 Shown at the Chemistry in Prague in autumn 2016, the latest works created by Sadofsky & Trantina are concerned with what the artists perceive as a crisis of the West, manifested through various conflicts of cultural dissonance. The artworks are largely comprised of monumental paintings (some created as multiple canvases strapped together and suspended from the gallery's logia) and several sculptures, including a large piece depicting what looks like a pink monster in motion about to jump into a non-existing pool titled The Great Leap Forward.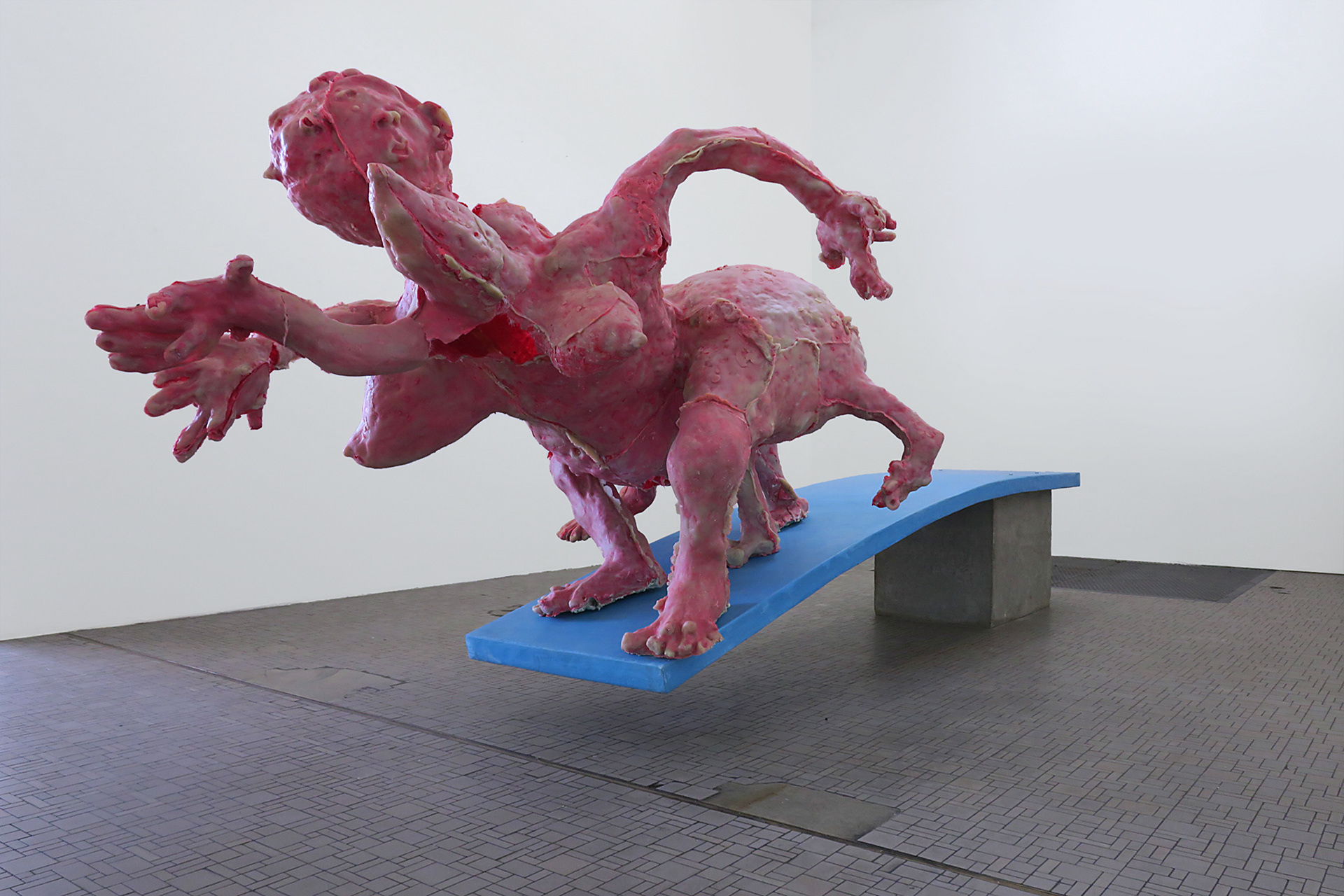 In one level, the paintings are a shot at the various popular magazine covers such as Time, Vogue, People or Hustler, to name a few. Contrary to the banality of the original inspiration, however, the Sadofsky–Trantina versions can be somewhat disturbing. Their Time cover shows a strange caricature of a black woman laying on the ground, tasered. People cover features Micah X and his robot executioner. Hustler boasts that "Aerobic Gives You Herpes" and promises "Hunting in Fergusson" in the next issue. The various smaller works on paper further explore the various themes of inner conflict, increasingly prevalent in Europe and the US. Alienation is a leitmotif of these works reflecting what the artists describe as "post-truth liquid reality of physical control" (referring to Zygmunt Bauman and Michel Foucault) where NO PARKING signs usher a dystopian aesthetic and "reaching" is no longer an option in social situations as no one can be sure what you are actually reaching for.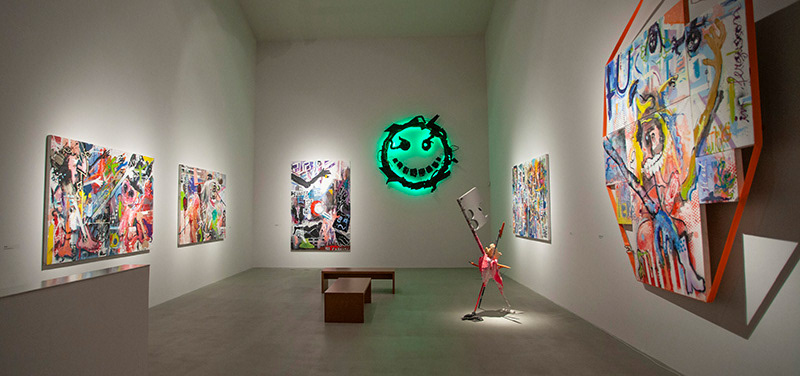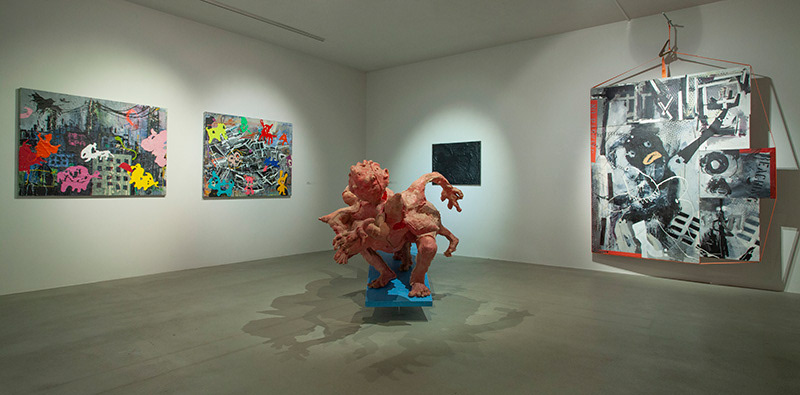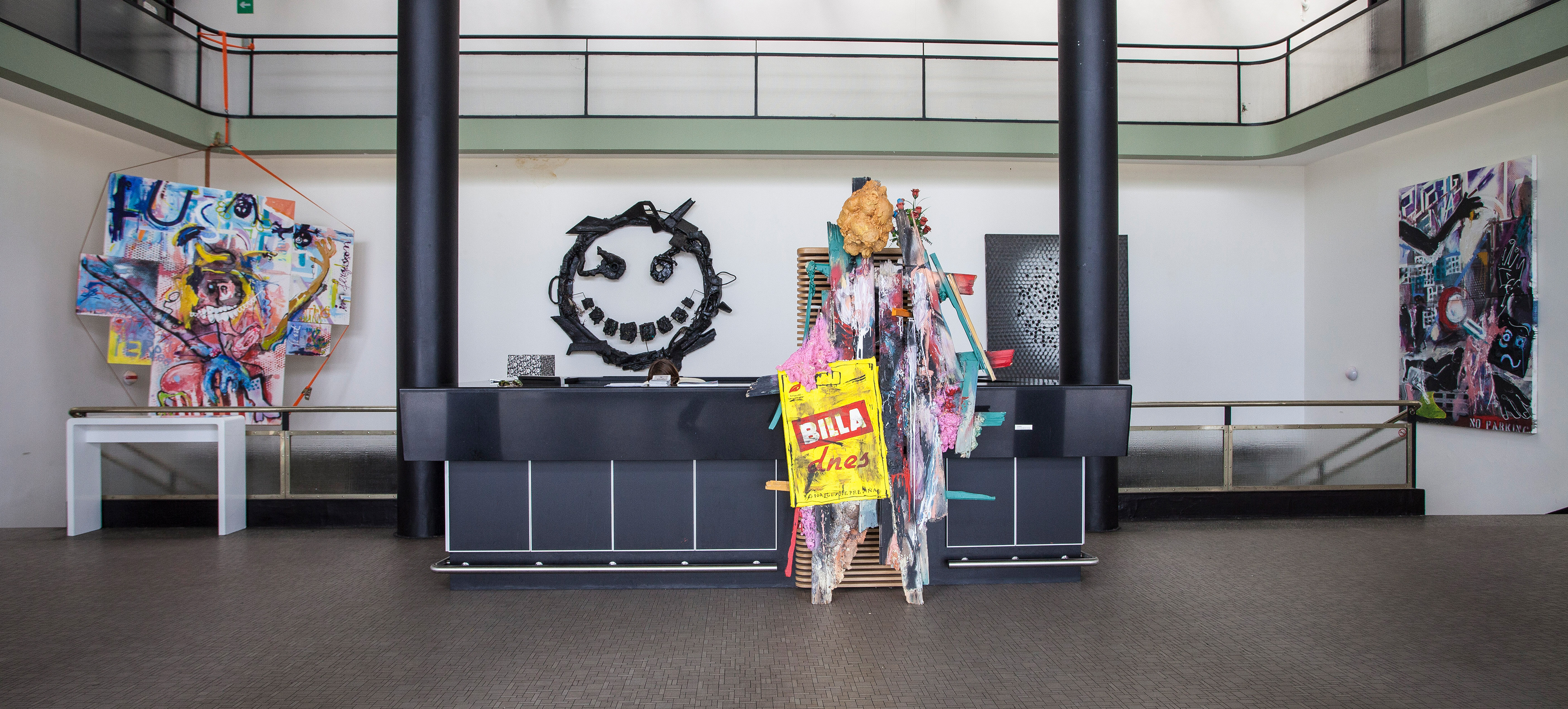 Painting in the Caribbean 2016


The very first paintings created in the Caribbean titled Us and Them – Colonisation of Internal Tribes picture the perpetual conflict within ourselves, the presence of many cultures and tribal instincts. The depicted woman and man are shown in quantum form of three and more layers at the same time. The heads, evoking shamanistic masks, are growing out of their multiplying bodies describing emotional levels of existence – the woman as a gentle and wild being is awaiting the man – warrior and child at the same time. The paintings have various layers of contrasting styles including constructivist geometry and wild expressionist brush strokes, sprayed symbols typical for street-art and heavy layers of paints. The series is partially inspired by Taíno body paintings as well as the modern masters like Henri Matisse or Kasimir Malevich. 

The use of citation and  intertextuality is present throughout much of Sadofsky & Trantina's work. For example, Leda and the Gecko, is a playful version of the often recreated art theme Leda and the Swan – a story from Greek mythology in which the god Zeus, in the form of a swan, seduces or rapes Leda. It is loosely inspired by Paul Cezanne's Leda and the Swan and it also cites El Lissitzky's constructivist piece "Beat the Whites With the Red Wedge", mocking this early communist political piece. The figure composition is also created in a way that can be read as another frequently created theme the Pieta. The painting style is lighter and a new technique of paint transfer, developed by the artists, has been used here.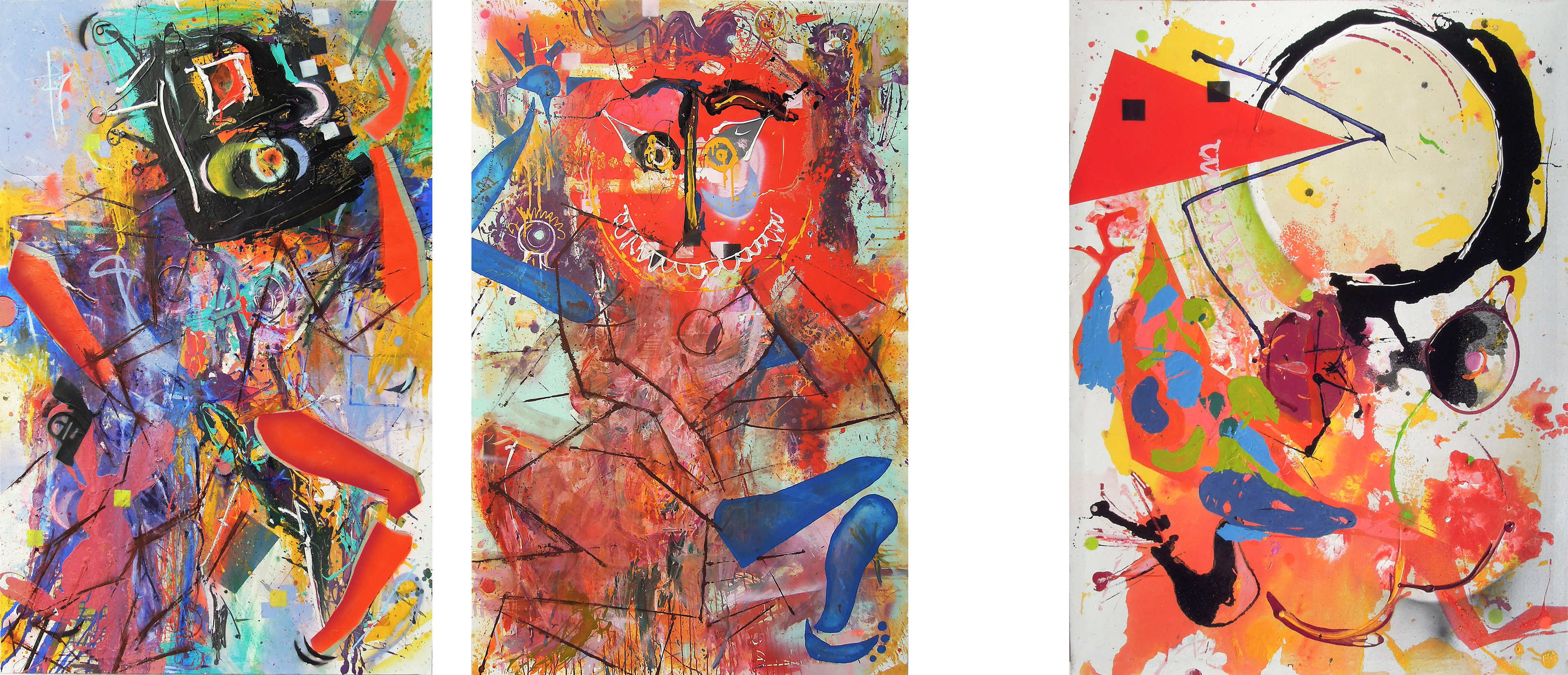 The new technique of paint transfer, is prominent in Small Animals Admiring a Factory. This painting is the first of a series that  Sadofsky & Trantina are working on currently. The style is a little darker as is the theme, however done with a dose of irony and humour typical for their work. The painting poses as a nostalgic look over the shoulder to the industrial era of Euro-American civilisation. It is also part of a long term theme of the artists, concerning perceiving the world from a non-anthropocentric perspective. The piece is also inspired by Friedrich Nietzsche's statement, that 'admiration for a quality or an art can be so strong that it deters us from striving to possess it.' 

Beside a special nude celebrity ongoing series, which is discussed in detail below page by the art historian and critic Daniel Dittrich, another special series was started and is being developed in terms of painting technique and content. These new canvases are in part urban structures and architecture layouts and in part abstract scenes filled with multiple narratives and symbolic situations. This new series is more subtle, unfolding each canvas as a chapter in an epic story, as for example on the slightly melancholic and almost completely black&white painting Jesus in the City. These latest works are not immune to Sadofsky & Trantina's ironical comments that are present in the many hidden details and connotations on the large compositions. An example of this is the ever-present leitmotif of the Los Angeles Police Department in all of the portrayed city scapes.
Sadofsky & Trantina's wide range of artwork is developing into an elaborate concept of aesthetics where the trivial and the subcultural becomes as influential on their working practice as the masterpieces of art history. Often sparked off by the banality of life, by politics, history or media, for these artists there is no subject which could not be turned into art. Sharp-witted self-irony is a large part of their strategy: borrowing from all aspects of culture ensure their own relevance within it. Sadofsky & Trantina's works are a grandiose epitome of ego, and a megalomaniac approach to sculpture as well as paining. Their diverse methodology and previous experience gives them the advantage of multi-medial artists that are able to turn out unmatched artwork in any category.
Sadofsky & Trantina's 2016 paintings were created during their residency in an empty ran-down villa belonging to the founder of the World Monetary Fund and overlooking the Caribbean sea. This strange enclosure enabled the creation of paintings that trade in high-art esteem for a certain comic brutality; they are beautiful and stupid at the same time, straight-forward and complexly inter-cultural in a re-invention of figurative and abstract painting for a sophisticated self-ironic introspection, so typical for their collaborative oeuvre. Borrowing equally from graffiti and traditional avant garde painting, the Caribbean series' strange floating figures and deviant faces are reminiscent of surrealist artists such as Joan Miro or the expressive carelessness of Jean Michel Basquiat, while its impoverished style and construction keeps in line with GEKW's populist values. 
GEKW is short for Sadofsky & Trantina's new collaborative project – the so-called GesamteEntarteteKunstWerke. This new collective identity deliberately bearing a German name of a rather derogatory character translating as Manufacture of Completely Degenerate Art, is a symptomatic step in their ambiguous game of aesthetics and conceptual structures. The title is a direct take off from Hitler's famous collective exhibition of modern artists in 1937, termed as degenerate (Entartete) and exhibited in an attempt to prove the then contemporary artists as bad artists or non-artists. The involved authors, like Braque or Kandinsky for example, had since become what Western cannon refers to as Great Masters. According to their own claim, the only way for Sadofsky & Trantina to master their art, is to turn completely degenerate. This strategy has typically self-mocking undertones as allegedly it is very hard work, since both authors perceive themselves to be otherwise "rather normal".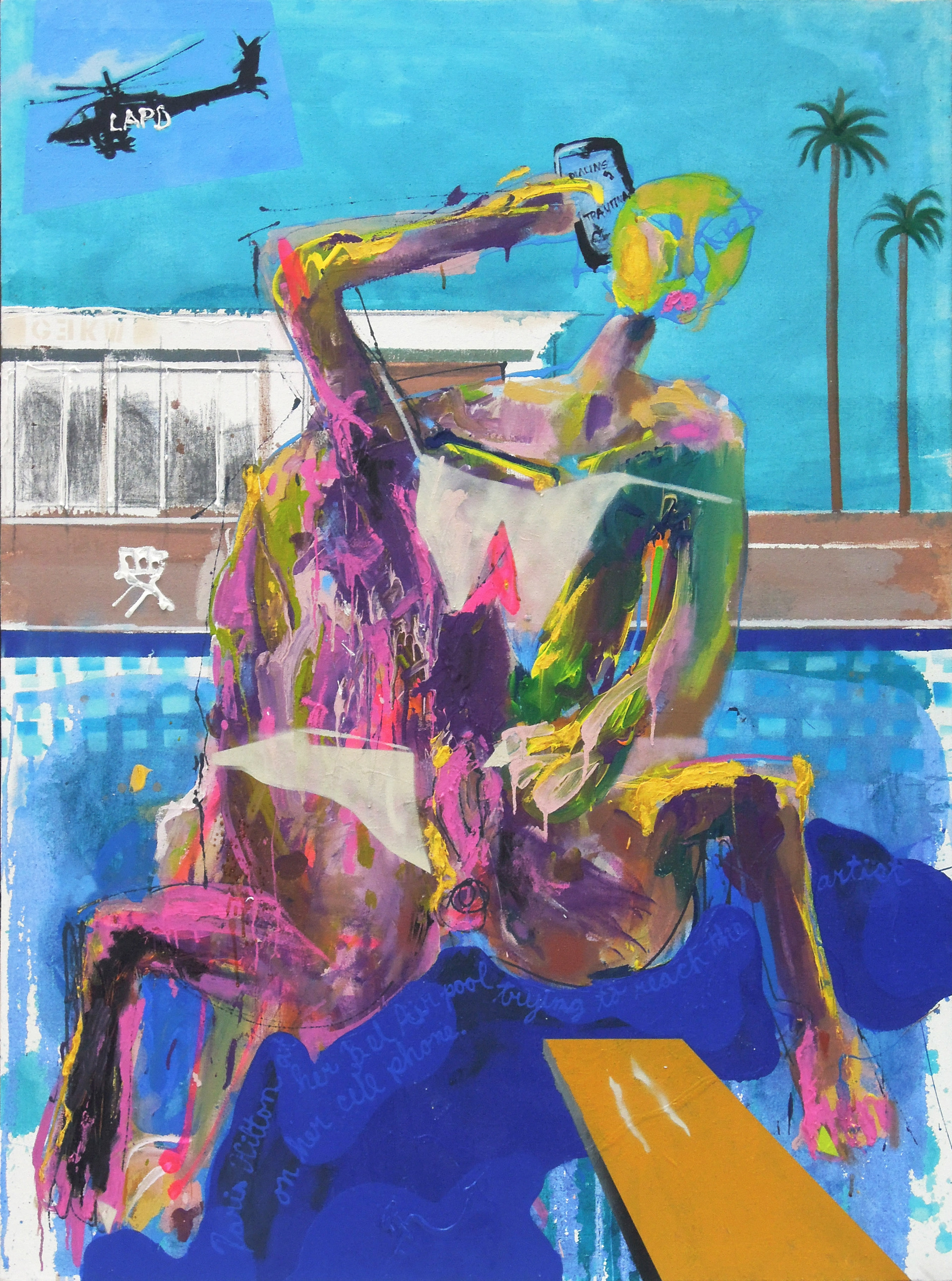 Every aspect of Sadofsky & Trantina's practice is a self-contained act of decadence, designed to create a myth of the artists' existence as a whole. In the Nude Celebrity Series, they paint images stripped of direct content: a series of large canvases bolstering grotesque nudes bearing comic titles linking the personae of the authors to various popular celebrities in the bubbly style of ever-present media banality. A typical title of a piece from the series reads: Paris Hilton at her Bel Air Pool Trying to Reach the Artist on her Cell Phone, with a subtitle pained in a smartphone held by the grotesque figure: "Dialling Trantina…". Sadofsky & Trantina's paintings operate as an anti-advert for themselves, poking fun at the emptiness of our contemporary cultural symbols and the tradition of painting and the way it's been historically and ideologically subverted.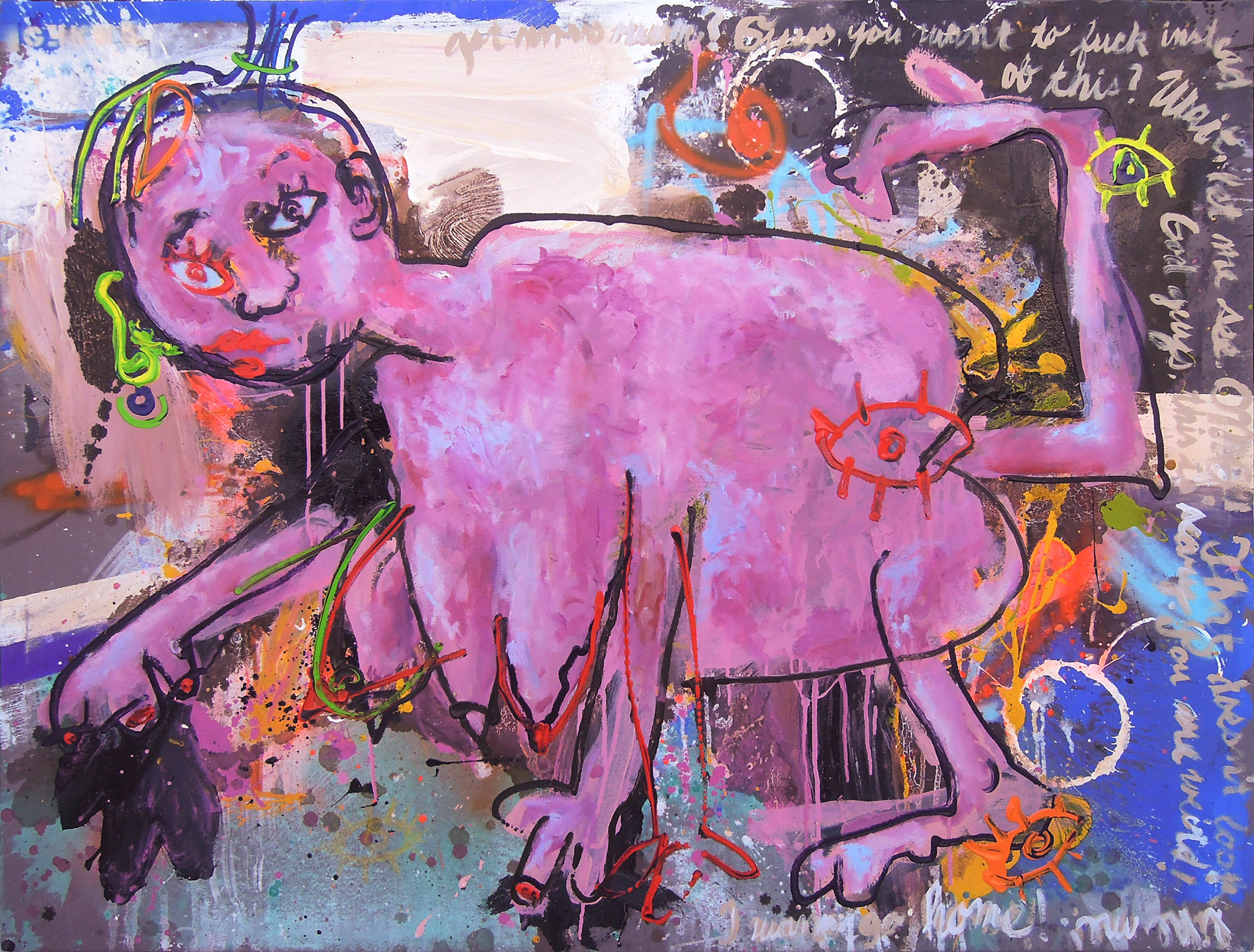 Beautiful and stupid-ugly at the same time, Live Model n.2 is a typical example of the series as it reverberates with perverse seduction. Painted brutally as if rather squirted on canvas it bares all the boiled-over passion of a hoped-for randy night in the sack. Depicting a grotesque nude figure of a monstrous female body with multiple faculties and vagina-eyes while maintaining a challenging look of guilty seduction typical for pornographic-cliché, Sadofsky & Trantina take a dumbed-down, humorous look at sex with its awkward subculture of taboo and embarrassment. When asked about their Nude Series, the artists typically respond that they really try hard to come up with a beautiful nude painting and contribute to this classical genre, but somehow things always go wrong. According to their duchampian "secret" ongoing work, the Unfinished Manifest, GesamteEntarteteKunstWerke claim that "Wrong is the new Right" and add for clarification, that this particularly important point has no political implication and has nothing to do with the self-proclaimed "New Left". Now the only thing to do is to look forward to what this original and explosive duo will get wrong the next time.